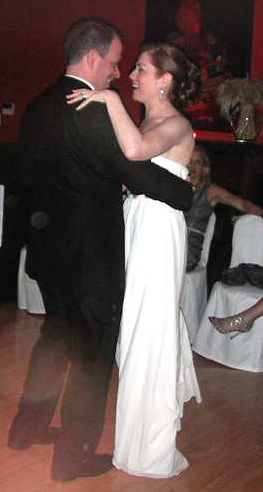 Your Wedding Dance! Choreographed Shot and Edited like a feature film!
Q' dance wedding instruction is like no other! We specialize in creating your first dance specifically to be viewed live and also to be edited for the camera. We work in cooperation with your videographer or ours. We also film your rehearsals. Please call us with your specifics and we will provide a quote for this unique service.

Happy Feet

"In the midst of the stress of wedding planning we found we both really looked forward to our sessions with Danielle. She was a fun, motivating instructor and we felt she was personally invested in making our wedding day a success. She even lent us cds to help us settle on a song. In ten private sessions, we found we had completed the entire bronze syllabus for international standard waltz! When the moment of truth finally came, we were able to execute thanks to the confidence and training Danielle instilled in us. Many guests later came up to us gushing about how professional we looked. Looking back, we are so happy to have invested in lessons with Danielle. She will push you hard but you'll have a great time doing it!!"
Choon and Wei-Ang Lee



"My husband and I are not professional dancers, nor do we really dance that much socially, so we were thrilled to work with Danielle in preparation for our wedding. Danielle works very personally with couples, not forcing techniques that would seem very staged for some of us, but sticking to a dance that reflects the style of the pair. She started by teaching us the basics of ballroom, which helped us learn how to move around the floor together. From this, she helped us select a dance that would fit our song and our personalities. We laughed through every lesson, never feeling pressured to do a move that didn't suit us, and Danielle was superb in modifying steps to match the space, our attire, and the mood of our reception. We could not have been happier with the result. We felt comfortable and confident when we danced our first dance, and we had a great time, as well. It is a very special memory for us, and we have Danielle to thank for it."
Lindsay and Andrew

First Dance Song Suggestions?

Ballroom figures can be adapted to fit most songs. Listed below are some of my client's wedding dance favorites and the type of ballroom or latin dance that fit their music and dance personalities best.

At Last - Ella Fitzgerald - Slow Foxtrot
Cheek to Cheek- Ella Fitzgerald and Louis Armstrong- Foxtrot
Crazy Love - Rumba
Cruise-Florida Georgia Line- Country Two Step
Everything - Michael Buble - Rumba
Fascination - Nat King Cole - Waltz
In My Life - Beatles - Rumba and Waltz
Moondance- Van Morrison- Foxtrot and Rumba
Moon River - Andy Williams - Waltz
One Hand One Heart - Waltz
The Way You Look Tonight - Foxtrot
Whenever I Call You Friend - Michael Johnson and Alison Krauss - Rumba / Foxtrot
When You Say Nothing at All - Allison Krauss


If you are planning on creating a wedding dance for your big day, it helps to arrive prepared. Most studio sound systems will accommodate your Ipod so bring your song ideas. It is also helpful to know the dimensions of the floor you will be dancing on and to wear the shoes you plan to wear at the reception. You can also dance in shoes that are similar in heel height and sole material to the shoes you have chosen or traditional ballroom dancing shoes. Sneakers and sandals are not recommended. It will help your instructor to know if you will be dancing to music played live or to music provided by a DJ. Be sure to tell your instructor if your dress has a very narrow or a very full skirt, floats, or is strapless, so the movement can be designed to accommodate your gown. Men may want to try dancing in a jacket too. Most instructors will be happy to talk with you or your wedding planner by phone in advance of your first lesson to go over the details. It will be important to a professional instructor to know how you envision the role of the first dance in your celebration.