Our Team
Danielle Quisenberry - CEO/A, Choreographer, Actor/Dancer, Teacher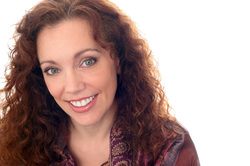 Danielle's choreographic work has been recognized with a Helen Hayes nomination for best overall production of a musical and with a Papermill Playhouse nomination for choreography, representing her outstanding work with pre-professional performers on the stage. No stranger to professional performers either, she taught the stars and choreographed the Season 2 Finale for USA Network's hit show
Royal Pains
, dance directing for Emmy award winning director Constantine Makris. She is currently on faculty at
The Alvin Ailey School,
where she uses her dual disciplines of acting and dance to train the MFA candidates for
The Actors Studio Drama School
.
Formerly the Director of Professional Development for The American Ballroom Theater Company's Dancing Classroom's Program, she is featured in the award-winning documentary
Mad
Hot Ballroom.
Her
role in the organization reflected her skill in developing curriculum models and training teaching artists. Her academic interests now include the way in which recent advances in
neuroscience
effect teaching and learning in the arts and the exploration of novel ways to deliver arts content to adult learners.
Danielle continues her own training in ballroom pedagogy and performance with her mentor, Three Time United States Ballroom Champion Sandra Cameron, World Class Competitor and Teacher Linas Koreiva and our own John Squire of Studio Q' dance
---
John Squire - Choreographer, Actor/Dancer, and Teacher Trainer.
John Squire and Danielle Quisenberry met at Sandra Cameron's Dance Center "back in the day" when they were both on faculty there and premiered their partnership in the beautiful ballroom at The 92nd Street Y with choreography by John Squire and Eddie Simon. They have been collaborating on dance and acting projects ever since. They just finished dancing their own choreography in the Independent Musical Film Gingerbread House directed by the incomparable VP Boyle of Relativity Media. John trained with some of the best in ballroom dance and is an experienced competitor and performer. A Member of the Fred Astaire National Dance Board and the Imperial Society of Teachers of Dance, he is the keeper of the syllabus and our teacher trainer here at Q'dance.
---
Peter Ruvolo - CFO, Choreographer, Social Dancer and Front Department Teacher.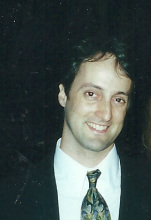 Danielle and Peter met while working in the regional theatre when Peter was a top drawer fight choreographer. Their shared love of physical theatre instantly bonded them. Peter fell in love with social dancing (and Danielle) when he went to work for her in The American Ballroom Theatre Company's Dancing Classrooms Program. With a background in the hospitality industry and experience running a Relais and Chateau Property, including two restaurants, a yoga studio and a boutique hotel, he is the perfect person to guide the general management of Q'dance. His inimitable brand of genuine hospitality and customer service is an invaluable asset. He is also our favorite front department teacher, bringing his deep background in movement studies and his lived experience of training in ballroom dance as an adult learner, to his inspired work with adult beginners and children of all ages.
---
Jim Wolpert - Advisory Board Chair , Social Dancer, and Sharp Dresser.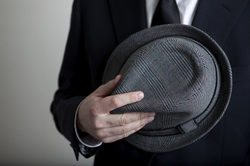 Wherever Jim goes...its a party. Jim has a deep love of life and stories and music and people. Jim and Danielle met when he came to Sandra Cameron's Dance Center to work on a father /daughter dance for his daughter Valerie's wedding...and well... Jim just stayed. He is now a lovely dancer who trains privately and seriously at Q'dance and at 83 years of age shows no signs of retirement from serious dance study although he did recently retire from his position with Loeb Partners on Wall Street. As a business person and an artist he is uniquely qualified to helm the advisory board at Q'dance and we only hope that you will be lucky enough to catch him playing piano at one of our events.
---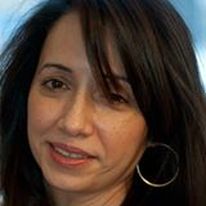 Salsera Sandy- Salsa Instructor-Privates- Groups- Workshops

Sandy is a Latina whose life has always been surrounded by the diverse rhythms of Latin
music. After taking classes with many of NY's top instructors, she has been teaching salsa "on 1" and "on 2" (the NY style) for many years, including 12 years teaching basic, pre-intermediate, intermediate and advance classes at the Sandra Cameron Dance Center, and for La Rumba at their various venues (La Belle Époque and NoMoore). Her experience also includes private study at Cuba's "La Escuela de Danza de Narciso Medina" in Havana, group choreographies and Salsa wedding dances. Sandy is our go to Salsera! Please look for her amazing Salsa on2 workshops coming soon!
---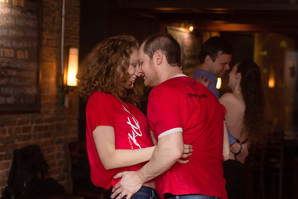 Studio Q'dance Welcomes Brett and Ksenia Nomberg!
​Ksenia began dancing at the age of 4 in St. Petersburg, Russia. As a child, she studied both ballroom and ballet. At age 10, she was accepted to the St. Petersburg State Children's Ballet Theatre. There, she held the prestigioius position of coryphée (solo dancer) and performed in the company throughout Europe and Asia. After high school, she attended University in St Petersburg, where she earned a masters degree in Economics. She returned to dancing after college and started competing in "Discofox", a European style of dance combining Ballroom and American Hustle, earning her way into the highest division, winning many awards at top Russian events, and becoming a teacher. In 2012, She discovered West Coast Swing, and is now an active competitor. She dances in the All-Star Division and has already won several top placements at prominent American competitions.
Watch Ksenia Dance Now!
Brett started dancing in college with a simple class in modern Jazz. After being inspired by "Dirty Dancing", he started taking private lessons in Hustle and then American Ballroom. By the time the "Gap" commercials hit the airways, Brett was primed to fall for Lindy Hop and Smooth Swing, which led to the study of West Coast Swing and Carolina Shag. As one of the founding members of the NYC Shag Team, he competed successfully with both the team and his partner.
As love and dancing would have it, Brett and Ksenia met at a West Coast event in Hungary and now are partners in dance and life. The couple is committed to inspiring their students to have fun, enjoy meeting new people, and improve their technique and musicality for both social dancing and competition. Theycontinue to train with world class competitor, event announcer and wonderful performer Robert Royston, DJ at awsome West Coast events and Oh yeah.....in all that free time...Brett practices law.
---