Introductory Offer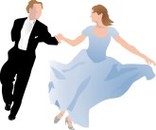 First time at Q'dance? This is the deal for you!
Try one hour of each of our beginner group dance classes. The Elegant Ballroom Sampler, The Wild and Woolly West Coast Swing and our Sizzlin NY Salsa on 2. Then take a half hour private lesson in your favorite style. Its a great way to kick off your Q'dance training!
To register online now for April, click on Join the Fun! or click here to check out our group class schedule.

IMPORTANT SCHEDULE CHANGE FOR CURRENT STUDENTS
New Schedule on Saturdays in March
Mixed Level Latin Technique Class at 1:00pm
Mixed Level
Ballroom Technique at 2:00pm.
There is a special International Style Waltz Workshop on March 29th.
Go to Special Events and Workshops for more details.
HOURS UPDATE
Q'dance is open from 5:30pm to 10:30pm Monday through Friday for private or group private dance lessons by appointment. Please call us to arrange daytime or Saturday services. We are closed on Sundays. All classes take place on Tuesdays, Thursdays and Saturdays in March and Thursdays and Saturdays in April at The Lower East Side Dance Academy at 62 Orchard Street at Grand on the 2nd floor unless otherwise noted.