Studio Q'dance Rocks Manhattan!
Not yet a part of the Q'dance family? Start enjoying cool
classes in
a cool neighborhood
at a cool price! Check out our Introductory Offer below.
There will be no group classes on Friday July 3rd or Saturday July 4th. Private Lessons will be held.
Introductory Offer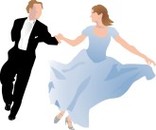 First time at Q'dance? This is the deal for you! It's one month of beginner ballroom sampler classes in seven different dance styles and a one hour private lesson in your favorite style.
Its a great way to kick off your Q'dance training!

Just 99.00 per person and no partner is necessary but if you sign up with a partner and take your private lessons together, you both get to take two privates instead of doing one lesson alone...this deal can't be beat and its a Q'dance website exclusive. We promise, you won't find it listed on any other site.

Why Q'dance?

We're a boutique dance studio offering private lessons and high level private lesson style instruction in a group dance party atmosphere. We pride ourselves on customer service and retention. Our students learn to dance well as fast as possible and have fun in the process. We offer a non-competitive, inclusive environment where beginners work hard but feel comfortable, especially in mixed level classes where an additional instructor is often available to help new dancers join the fun. We take our students out social dancing, dance with them and help them use the skills they are learning in class. To
register online
now,
click on
Join the Fun!
or click here to check out our
group class schedule.
Are you new to Q'dance? Do you have an expired voucher for a dance class or classes from a deal site? We will honor the face value; the value you actually paid for classes from any merchant, when you bring that voucher to Q'dance. Call us for details. It's Free!
Group Class News
There will be no classes on Friday July 3rd and Saturday July 4th! Happy Holiday! Private lessons will be held.Our Ballroom Workshop for July is now registering. The International Foxtrot and Waltz Class is held on Saturdays at 11:00am in Room 3G at 440 Studios. 440 Studios is located at 440 Lafayette Street at Astor Place on the 3rd floor. There will be no ballroom sampler class in August. Please join us for the July session and check the website for September options.
HOURS UPDATE
Q'dance
is open from 5:30pm to 10:30pm Monday through Friday for private or group private dance lessons by appointment. Please call us to arrange daytime or Saturday services. We are closed on Sundays. Group Classes are currently held on Friday nights and Saturday days in four week cycles. New students are welcome anytime but it is important to note that basic material is presented or reviewed at the beginning of each month.