Ballroom Dance For The Camera

Gingerbread House Directed by VP Boyle Choreography by Jennifer Didonato. Ballroom Segment Choreographed and Performed by Danielle Quisenberry and John Squire/ Studio Q'dance.

Our site specific project performed live in Times Square as well as for the camera. Stay tuned for the video of the big day!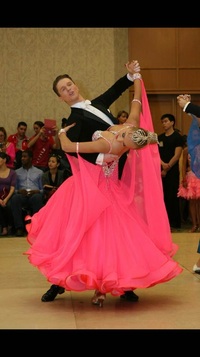 Mitchell Margolin and Michelle Gnidash have each been dancing for over 10 years.
Among the many notable successes of this four year partnership are final rankings in the Manhattan Dance Championship and in the Golden State Dancesport and Tristate Open competitions as well as 1st place wins at the championship level in many college competitions including The Pennstate Compeition in 2015 and Columbia
University's Competition in 2014. In 2015, Mitchell and Michelle won 1st place at Nationals in the adult rising star division. In addition to competing, they really enjoy dance performance work and dance regularly in theatrical shows, as both principle dancers and in formations.
Watch Mitchell and Michelle dance now
https://youtu.be/yCp8jODbM_g
---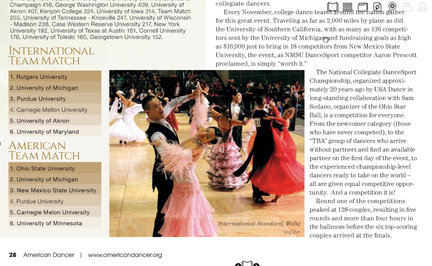 Kevin Lu is the president of Rutgers University Ballroom Dance Team. The Rutgers Ballroom team is currently the National Collegiate Team Match Champions! He accidentally stumbled into a collegiate ballroom team his freshman year and things haven't been the same since. Watch Kevin dance now at
https://youtu.be/JnkQFwx87fI
then visit his terrific ballroom website at
http://www.ballroomdaily.com/
.
---
Rainer Trubere is the owner of DanceArt-RT and is a championship hustle dancer. He has had a long career traveling the globe as performer, choreographer, and dance instructor and is still competing performing and winning awards. At the World Open Hustle Dance Championship in 2011 He earned 2nd Place in The Pro Open Dance Division with partner Veronica. Rainer and Veronica danced into 3rd place at The World Professional Hustle Championship IHSC in 2010 and earned 2nd place at The New York Hustle Congress competition is the Professional Theatre Arts division in both 2009 and 2010 as well as in the Pro Open Dance category in 2011. Rainer is a lifts and tricks specialist. Watch Rainer dance now at
https://youtu.be/sd_-JjWMNQ8
(Psst he and Veronica do a particularly cool lift at the end
of the reel!)
---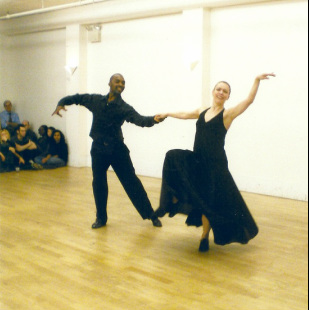 Danielle Quisenberry and Sherman Hope
Danielle's choreographic work has been recognized with a Helen Hayes nomination for best overall production of a musical and with a Papermill Playhouse nomination for choreography, representing her outstanding work with pre-professional performers on the stage. No stranger to professional performers either, she taught the stars and choreographed the Season 2 Finale for USA Network's hit show
Royal Pains
, dance directing for Emmy award winning director Constantine Makris. She is currently on faculty at
The Alvin Ailey School,
where she uses her dual disciplines of acting and dance to train the MFA candidates for
The Actors Studio Drama School
and The New York Film Academy where she is learning to combine her love of dance with the camera. Danielle continues her own training in ballroom pedagogy and performance with her mentor, Three Time United States Ballroom Champion Sandra Cameron, World Class Competitor and Teacher Linas Koreiva and our own John Squire of Studio Q' dance.
Sherman Hope is the owner of Elegance Dance Studio in Brooklyn New York. Following in his father's footsteps he has been dancing since he was a child. He met Danielle at Sandra Cameron's Dance Center where they were both teaching and where they performed together regularly. Watch them dance their own choreography at the world famous 92nd street y now at
https://youtu.be/tH_MJ5HgEp4
---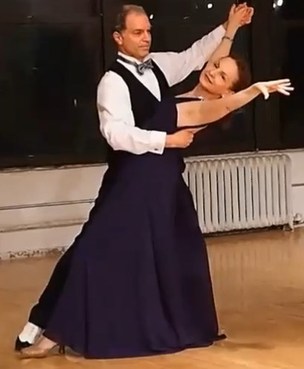 Gene Eagle and Claire
---